Vitreous Enamel Coated Wire and Tape Wound Resistors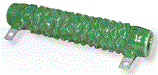 HVR offers vitreous enamel coated wire- and tape-wound resistors in power ratings from 20W to 1kW. Non-inductive windings are available on many sizes, and several mounting configurations are also available, as well as adjustable and tapped versions.
Vitreous Wire and Tape Wound Datasheet
Dynamic Braking Resistors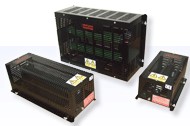 HVR can configure resistors into a dynamic braking bank with enclosures. Braking resistor assemblies are available from 200W to 4kW continuous rated, with up to 80kW short term (5 second) ratings.
Dynamic Braking Resistors Datasheet
Anti-Condensation Heaters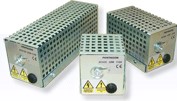 Anti-condensation heaters are used to prevent condensation in enclosed electrical cabinets and installations. Power ratings from 20W to 120W are available in the standard line. Thermostats for control are also available.
Anti-Condensation Heaters Datasheet
Thermostats Datasheet
HVR Advanced Power Components
Phone: 716-693-4700
Fax: 716-693-4774
Email: mail@hvrapc.com